Michael Altorfer
CEO Swiss Biotech Association
Switzerland has established one of the strongest, most densely populated and comprehensive biotech hubs in the world. However, the growth in number of competitors suggests that this leading position may increasingly be challenged. Continuous innovation in science, business and financing models, together with a clear focus on patients' needs, are vital to retain a leading position and develop valuable and effective biotechnology products, diagnostics and novel medicines.
We take a closer look at the way in which the Swiss biotech industry is evolving and exploits opportunities offered by four key industry trends:
Structural change in the pharma industry offers opportunities for the biotech companies
Innovative financing models provide leverage
Investors push for effective management structures
Artificial intelligence enables more targeted and effective therapies
Structural change opportunities
As global pharma companies continue to adjust and optimize their business model, more and more elements of the integrated value chain are outsourced. Contract research organizations play an ever more important role in research, clinical trials and manufacturing. Even in drug distribution big pharma companies are increasingly open to out-licensing their products if they can identify a partner that is more effective in certain indications or has a better connection to selected patient groups.
Increasingly, pharma companies rely on external innovation provided by biotech companies. They in turn optimize their business models to handle the inherent risks associated with developing new technologies and medicines. Service providers and contract research or manufacturing organizations are also ready to assume development risk. They team up with investors that support them in financing innovation, clinical trials or the build-up of production sites. In return these investors, together with the biotech companies and service providers, participate in the upside when a joint product development is completed successfully.
Some of these models have been developed only recently and it is therefore too early to assess whether they will all be successful and prevail but overall the trend is clear. The pharma companies distance themselves from managing the entire value chain, and from carrying the entire development risk on their own. They rely on partners to de-risk the projects and in return these partners participate in the success. The end result is an increase in specialized parties combining their efforts in developing, producing and distributing new medicine. As all of them share risk and reward. They are incentivized to work together effectively and to assess, sooner rather than later, whether a project is viable or not.
Innovative financing models
Financing biotech companies is inherently associated with a significant attrition risk. Less than 1% of research projects lead to a successful product launch and the development of a new medicine typically requires intense R&D efforts for in excess of 10 years. Furthermore, such projects normally require many sequential financing rounds and the biotech companies need to be able to raise several hundreds of million US dollars (and often > USD 1 billion) if they want to develop their products on their own.
To grow and prosper these companies need to combine sound science with an experienced management team and the ability to effectively finance development. In this context time is money. As soon as patents are filed, the clock is ticking and any delay inevitably results in a shorter period of market exclusivity. Seamless and effective financing is thus an essential element of a successful biotech hub.
Switzerland has been successful in attracting venture capital in this sector (more than USD 1.5 billion new funds were made available to Swiss biotech companies in 2018 alone). Nevertheless, all too often companies have lost time with preparing and implementing financing rounds and some have struggled to get started despite attractive and promising scientific rationales.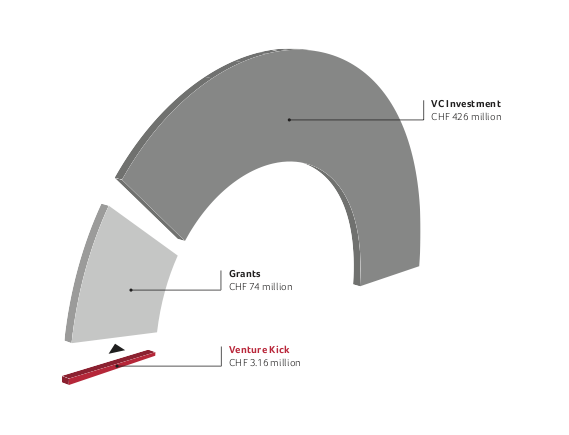 To address these issues, Switzerland has invested in innovative financing models. These include different types of capital sources (non-dilutive, philanthropic, angel investors, venture capitalists, etc.) and marketing platforms (private networks, crowd funding, ICOs, small and large public markets).
Various organizations combine their efforts to promote and finance start-up companies (including e.g. >>venture>>, Venturelab and Venture Kick). Their initial investments have proven to be particularly effective: Since 2007, Venture Kick has invested more than CHF 3 million in 48 Swiss biotech companies and this initial seed money was amplified more than 150 fold by subsequent grants and venture capital investments.
Effective management structures
Next to the efforts to access capital in a timely manner and on favourable terms, companies are increasingly establishing innovative organizational structures to gain time and reduce capital needs. Thanks to leading universities, innovative hospitals and a traditionally strong pharma sector, Switzerland has been a rich source of new technologies, sound science and opportunities to apply scientific findings to address medical needs and benefit patients. The good reputation and efforts of these organizations means that business opportunities have attracted the required financial resources. However, strong growth in the Swiss biotech industry creates the risk of a shortage of dedicated entrepreneurs and management teams that can effectively manage all these opportunities.
Given this situation, investors are pushing for highly effective management structures. The goal is to reduce research costs by running virtual companies and increase the chances of individual projects by establishing highly skilled and specialized management teams. Consequently, specialized investors assemble their own management teams and operate in virtual company settings (e.g. Versant Ventures, Medicxi Ventures) or exploit synergies by running several companies under one roof (Roivant Sciences).
In return, the investors are willing to provide very solid financial reserves (e.g. Vir, Roivant Sciences), in some cases exceeding USD 1 billion, to ensure that successful projects will be fully funded and thus eliminate the need for sequential financing rounds. Such significant financial commitments will only be granted if the investors have full trust in the management team to indeed eliminate projects that do not meet expectations as early as possible.
Faster and more precise with artificial intelligence
Artificial intelligence (AI) powers more and more smart clinical trials and enables highly targeted therapies. Genomic and imaging data are particularly useful for new AI-driven analytical applications as they both represent valuable sources of information to support patient diagnosis, prognosis and monitoring. Thereby AI is used to identify those molecular biomarkers, which are essential for the development of targeted therapies, making treatments more personalized to individual patients. This smart diagnostic tool seeks to identify specific molecular signatures to provide the right treatment to the right patient at the right time.
As these data collections grow they become ever more powerful. SOPHiA GENETICS, one of the leading companies in this field, has helped diagnose more than 320,000 cancer patients so far, almost twice as many as by the end of 2017. An ever increasing number of hospitals from around the globe use their platform to collect and share data and thus all their patients benefit from this joint effort. AI can thereby contribute to reducing the costs and timelines of clinical trials while at the same time enabling much more precise and effective therapies.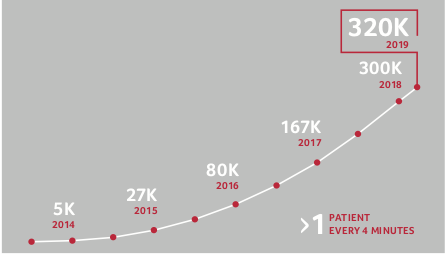 The continuous optimization and adaptation of business models, access to funding for early stage projects, effective management structures and the opportunities created by AI bear the potential to further accelerate the growth and value contribution of the Swiss biotech hub. But constant innovation will remain an ongoing obligation in the context of increasing global competition, healthcare cost challenges and the objective to provide ever more targeted and effective therapies.
---
Founded in 1998, the Swiss Biotech Association represents the interests of the Swiss biotech industry. To support its members in a competitive market, the Swiss Biotech Association works to secure favorable framework conditions and facilitate access to talents, novel technologies and financial resources. To strengthen and promote the Swiss biotech industry, the Swiss Biotech Association collaborates with numerous partners and life science clusters globally under the brand Swiss Biotech™. For more information visit www.swissbiotech.org.