Jürg Zürcher
Partner, Assurance Services, Biotechnology Leader EMEIA, Ernst & Young AG


Frederik Schmachtenberg
Partner, Life Sciences Financial Accounting Advisory Services (FAAS), Ernst & Young AG
The offer was also very attractive for Actelion's shareholder base as the purchase price was not only paid in cash but also included a contribution in kind in the form of new shares for a spin-off from Actelion, named Idorsia. The company started trading at SIX Swiss Exchange on 16 June 2017 and was among the best performing life sciences shares trading in Switzerland in 2017. However, this transaction will have a significant impact on some of the statistical information for the Swiss biotech sector in 2017 and the upcoming years as the exclusion of the Actelion data will lead to a reassessment of the overall industry performance.
The IPO class of 2017 also regained some momentum after the slowdown in 2016 with 47 IPOs and reached a total of 58 IPOs. 30 US IPOs were able to harvest fresh money in the amount of approximately USD 2.8 billion (2016: 24 US IPOs with USD 1.2 billion). There were 28 European IPOs which generated USD 1.1 billion (2016: 23 European IPOs/USD 0.7 billion).
Swiss Biotech Landscape
The Swiss biotech industry generated revenues of CHF 3,791 million, compared with restated CHF 3,314 million in 2016. Some of the smaller public companies were able to reduce the overall net loss situation through an increase in product sales as well as income generated from milestone payments from their collaboration partners.
Record in Financing for the Swiss Biotech Sector
The Swiss biotech sector was able to attract more than CHF 1.6 billion of new capital in 2017. This amount was split as follows between the public and private companies:
Public companies: CHF 978 million, mainly follow on financings by Evolva, Idorsia and Santhera
Private companies: CHF 666 million, whereof almost CHF 200 million was collected by ADC Therapeutics from Lausanne (3rd highest VC financing globally in 2017)
The only Swiss biotech IPO was achieved in January 2017 by the Geneva-based company ObsEva which was almost reaching an initial offering of USD 100 million at NASDAQ. Later in 2017, ObsEva was doing a follow-on financing in the way of a private placement amounting to USD 60 million. Auris Medical was facing some unforeseen events in 2017; on one side the clinical trial results were not as good as expected and on the other side, the SEC transferred the Auris shares from NASDAQ Global Market to the NASDAQ Capital Market due to insufficient trading volumes. Other companies which were able to attract cash funds were Basilea (through a USD 55 million grant from BARDA) and Neurimmune Holding (USD 150 million from collaboration partner Biogen). Nouscom was able to attract EUR 42 million from highly reputed VCs in a Series A round and Polyphor raised CHF 40 million. An interesting observation around the financing is the fact that companies in the Swiss Romandie were able to attract a larger portion of the additional funds invested in Switzerland. This can almost be seen as a trend over the last four years and is also reflected in the fact that five out of the last six Swiss biotech IPOs were done by companies from the Arc Lemanique area.
Another positive financing element is the fact that BioMedPartners in Basel were able to launch their third fund with an initial financial contribution of CHF 75 million and the clear goal to increase this amount to a total of CHF 100 million over the next few months.

M&A and collaborations
Swiss biotech companies continued to be an attractive target for acquisitions by pharma or large biotech companies. Besides the J&J/Actelion deal, the Irish Malin plc. acquired privately held Cilatus Biopharma, Vir Biotechnology acquired Humabs BioMed, and Elanix Biotechnologies acquired Inno 4 Cell in a capital increase by way of contribution in kind. In terms of divestitures, Selexis sold some of its assets to JSR Life Sciences in 2017.
Looking at all the announced, new or extended collaborations in Switzerland in 2017, the list might almost be labelled a 'Who's Who' of the life sciences industry. Some deals to support this statement:
Anokion with Celgene
Idorsia with Janssen Biotech and Roche
InSphero with Charles River Laboratories, NIH and Pfizer
NovImmune with Shire
Numab with Ono Pharma and Kaken Pharma
Piqur with Pierre Fabre
Selexis with Merck KGA, Sanofi and Takeda
Another interesting development in 2017 was an uptick in 'portfolio management' type of deals, with several pharmaceutical companies partnering with private equity firms for assets that may not be 'top of the list' from the pharmaceutical company's perspective (as it relates to managing their portfolio and trying to be more specialized in certain indications), but that could still yield high returns with some investment. It will be interesting to observe when such private equity firms will also start to approach larger biotech companies as those increasingly face similar portfolio management and R&D prioritization questions as pharma companies. To address this new trend, Versant Ventures opened with Ridgeline Therapeutics a new discovery engine with its own laboratories in the Basel Technology Park.
Product development
FDA approved a record number of 46 new drugs (2016: 22) which represents the highest approval rate in the past 10 years. The European counterpart, EMA, issued 92 positive opinions (2016: 81) whereof 35 (2016: 27) were for new active substances. Although there was no new drug directly originating from a Swiss biotech company, the overall progress was still remarkable in 2017 and several Swiss companies were able to collect milestone payments from their respective collaboration partners as they advanced their assets in the pipeline. Swissmedic itself approved 32 new drugs in 2017 which was below the 40 approvals for innovative new drugs in 2016. However, there is always some volatility in the timing of the approval cycle.
Facts & figures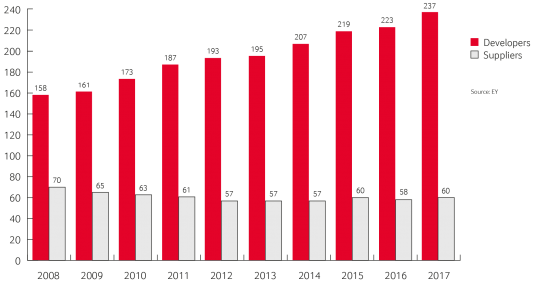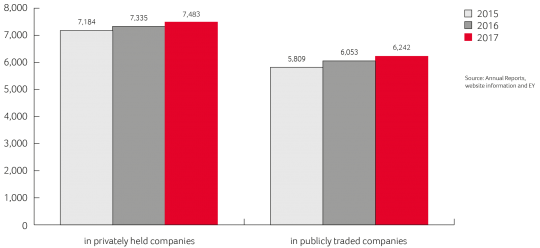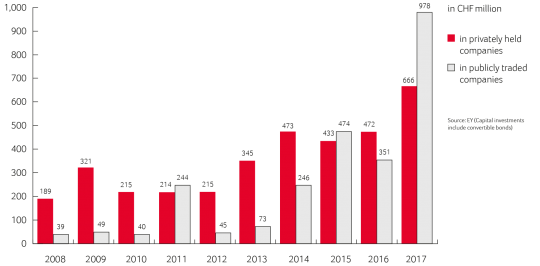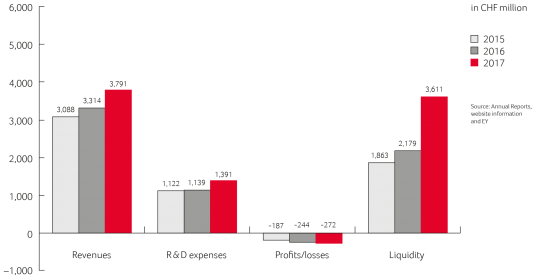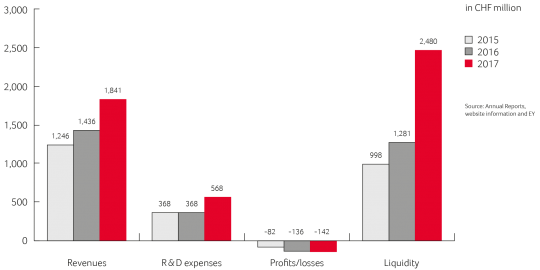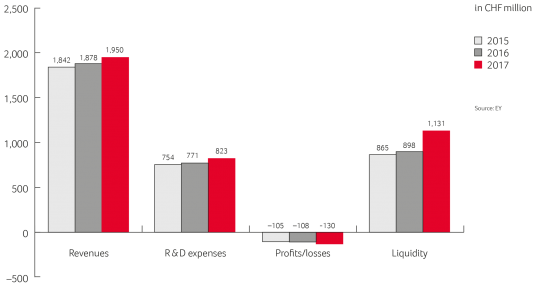 Notes
The 2017 data in this table is based on information that was available up until March 2018 when this report was compiled. At this time, some of the companies had not yet disclosed their final financial figures for 2017. Therefore, some figures were carefully extrapolated on the basis of the latest interim data publicly available (e.g. Q3 2017).
Selected financial figures for biotech activities of Lonza's business segment 'Pharma & Biotech Market Segment', which has been established as part of the reorganization at Lonza, are included for 2017. For the previous periods presented, Lonza's 'Bioscience' and 'Biological Manufacturing' are included based on actual figures publicly available or careful estimates. Lonza's 'Pharma & Biotech Market Segment' respectively 'Bioscience and Biological Manufacturing business sectors' are presented due to Lonza's transformation into a life sciences company
As some privately held companies do not disclose financial figures, the figures above represent EY's best estimate.
All figures are headquarter-counted and do not include data from pharma companies such as Novartis and Roche.
---
About the global EY organization
The global EY organization is a leader in assurance, tax, transaction, legal and advisory services. We leverage our experience, knowledge and services to help build trust and confidence in the financial markets and in economies all over the world. We are ideally equipped for this task – with well trained employees, strong teams, excellent services and outstanding client relations. Our global mission is to drive progress and make a difference by building a better working world – for our people, for our clients and for our communities. EY's organization is represented in Switzerland by Ernst & Young Ltd, Basel, with ten offices across Switzerland. For more information, please visit www.ey.com/ch.
---
About EY's Global Life Sciences Center
Life sciences companies – from emerging start-ups to multinational enterprises – face new challenges in a rapidly changing health care ecosystem. Payers and regulators are increasing scrutiny and accelerating the transition to value and outcomes. Big data and patientempowering technologies are driving new approaches and enabling transparency and consumerism. These trends challenge every aspect of the life sciences business model, from R&D to marketing. EY's Global Life Sciences Sector brings together more than 7,000 sector-focused assurance, tax, transaction and advisory professionals to anticipate trends, identify implications and develop points of view on responding to critical issues. For more timely insights on the key business issues visit ey.com/lifesciences.