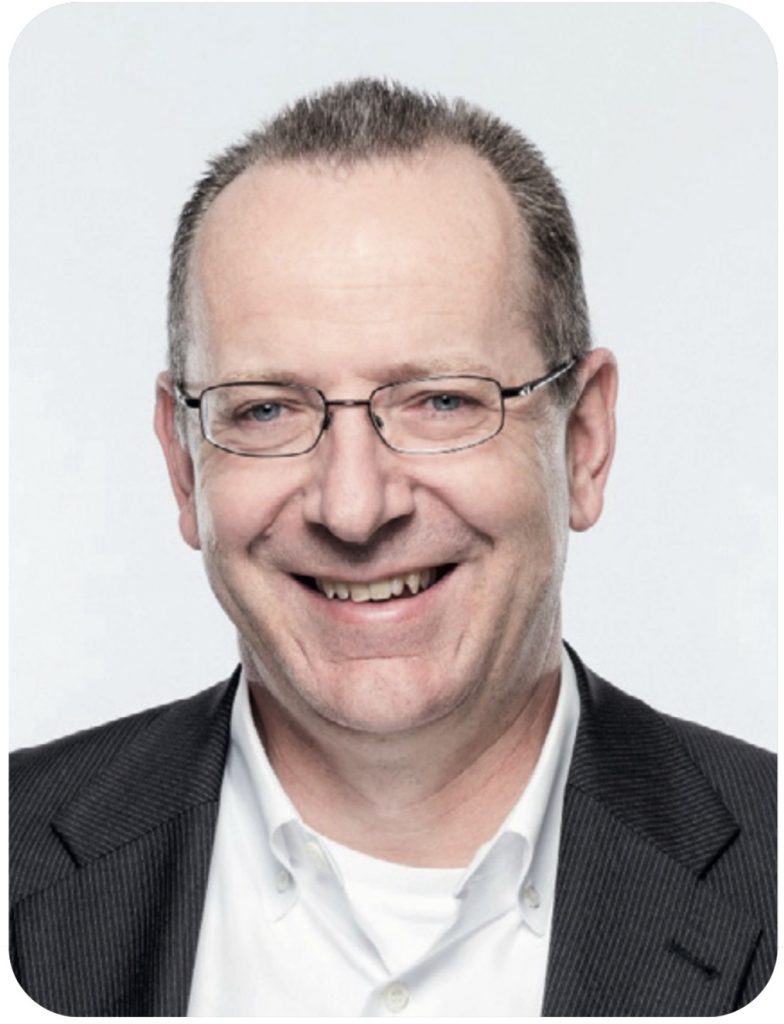 Jürg Zürcher
Partner, GSA Biotechnology Leader, EY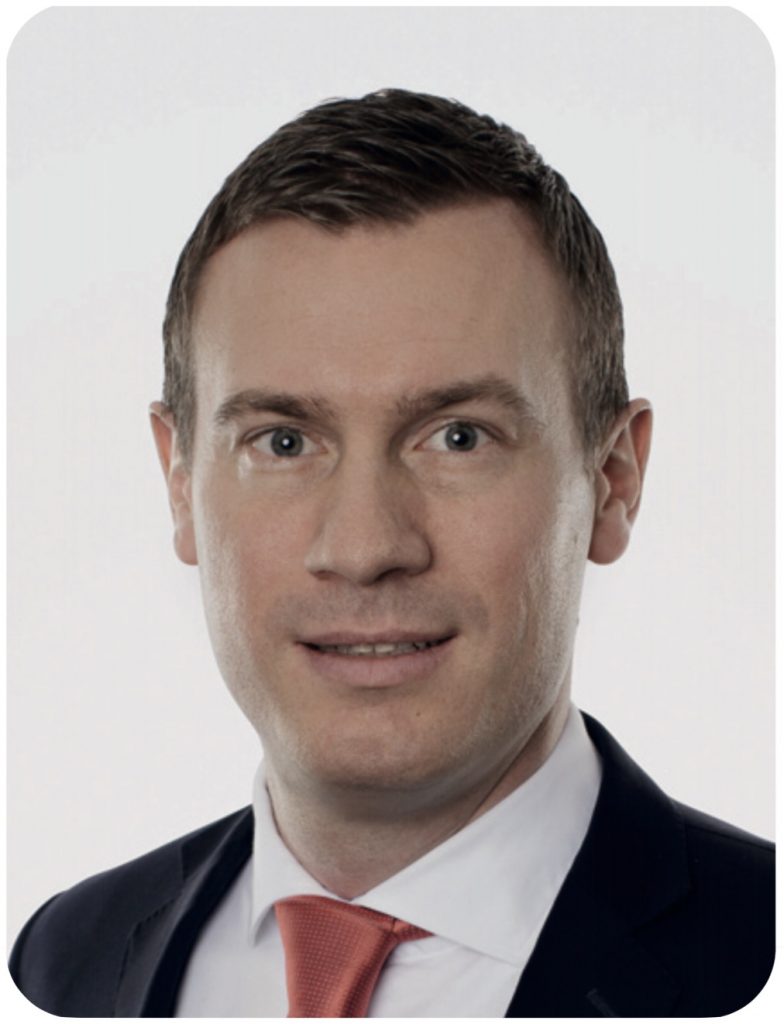 Frederik Schmachtenberg
Partner, Financial Accounting Advisory Services, EY
The IPO class of 2019 was playing in a league of its own with a total of 57 IPOs (2018: 77), which generated more than US$6.4 billion (2018: US$ 7.2 billion) of new capital. Some 46 US IPOs were able to harvest fresh money to the tune of approximately US$5.6 billion (2018: 58 US IPOs/US$6.3 billion). And there were 11 European IPOs, which raised US$0.8 billion (2018: 19 European IPOs / US$1.2 billion).
Swiss biotech landscape
The Swiss biotech industry generated revenues of almost CHF 4.8 billion, compared to CHF 4.0 billion in 2018. This boost in revenues was mainly driven by favorable collaboration and licensing agreements for AC Immune, Basilea and CRISPR, as well as higher revenues for those biotechs already selling products/services in the market.
Swiss biotech financing
Financing reported a year which was clearly below the previous two "record years", with a total CHF 1.2 billion. The split between public and private companies was almost even, with the "better end" for the public companies. However, there was not a single IPO of a Swiss biotech company in 2019.
Of the money collected by the public entities, the vast majority went to CRISPR Therapeutics AG with an equity round of US$ 315 million, as well as an ATM program of another CHF 121 million. Other public companies which were able to get fresh money included AC Immune and ObsEva through debt and/or equity instruments, as well as Auris Medical and Biocartis (see Table 1).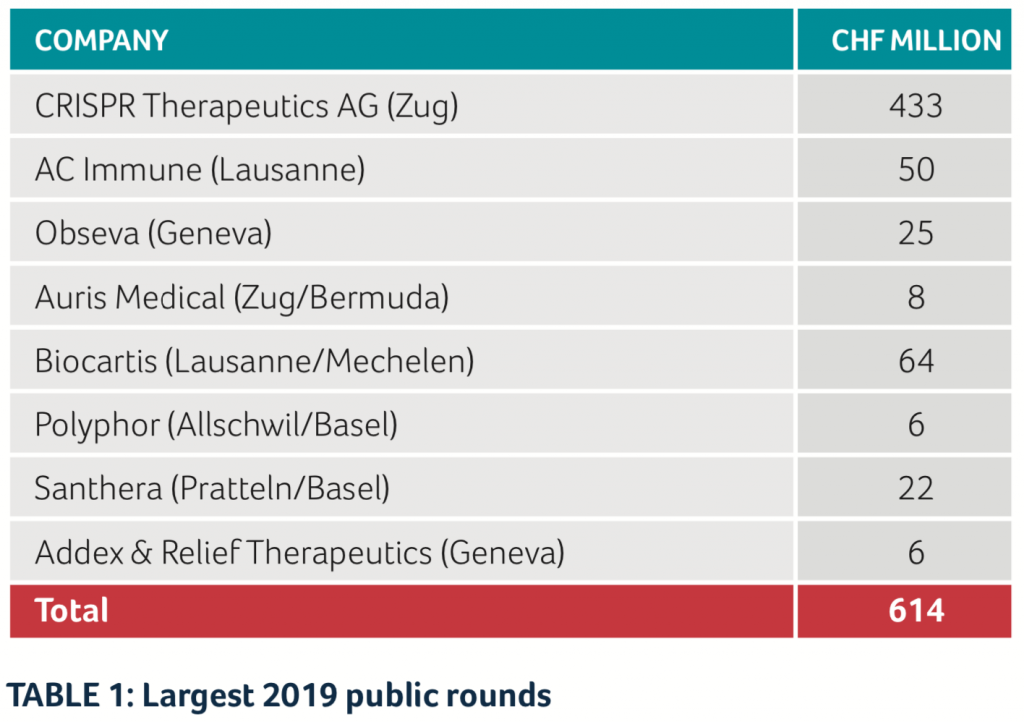 Among the private biotech companies in Switzerland, the largest financing rounds were achieved by ADC Therapeutics, with CHF 101 million in two rounds, and SOPHiA GENETICS with CHF 76 million. ADC Therapeutics was also a "hot IPO candidate" but decided shortly before the planned IPO date to instead do another financing round with private investors. (See Table 2)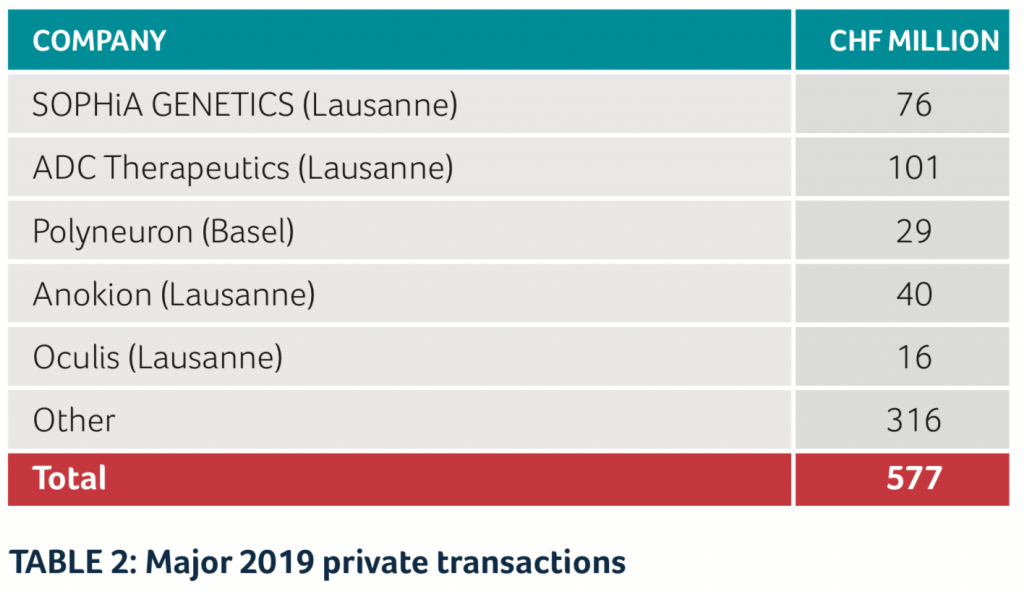 M&A and collaborations
Several Swiss biotech companies were acquired in 2019 by either (big) pharma or other biotech companies. The following brief snapshot lists the most prominent transactions (see Table 3):
SimplicityBio, an early-stage healthcare AI company based in Lausanne, has been acquired by US-based Precision for Medicine, the first biomarker-driven clinical development organization.
ChromaCon AG (based in Zurich) was acquired by YMC Co., Ltd. (Kyoto, Japan)
Pfizer acquired Therachon for $340 million upfront and an additional $470 million tied to the achievement of key R&D and commercial milestones for the drug candidate TA-46 for the treatment of achondroplasia
Sobi purchased for the price of CHF 515 million ($518 million) the immunology R&D capabilities from Novimmune (Geneva)
Boehringer Ingelheim acquired Amal Therapeutics in a €325M deal
Relief Therapeutics Holding SA sold its subsidiary Relief Therapeutics SA to Sonnet Bio-Therapeutics, Inc. to ensure the further development of Atexakin Alpha (Interleukin-6)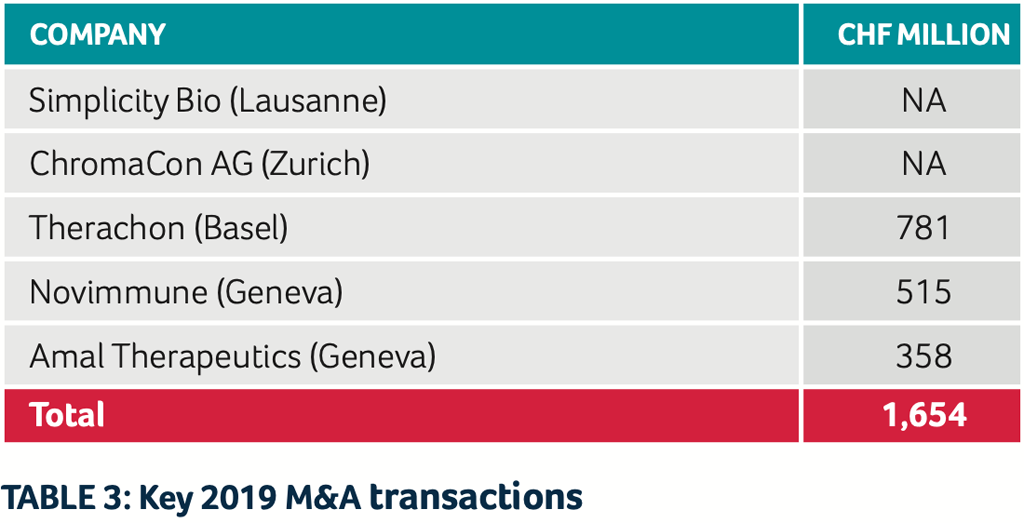 But Swiss biotechs were also active as acquirers of other companies. For example, Lausanne based Anokion SA found an acquisition target in the US (Kanyos Biotech).
And it was not just on the financing front that the Swiss biotech sector recorded a lot of successful events. In the area of collaborations and licensing arrangements, several successful new partnerships were also established in 2019 (See Table 4).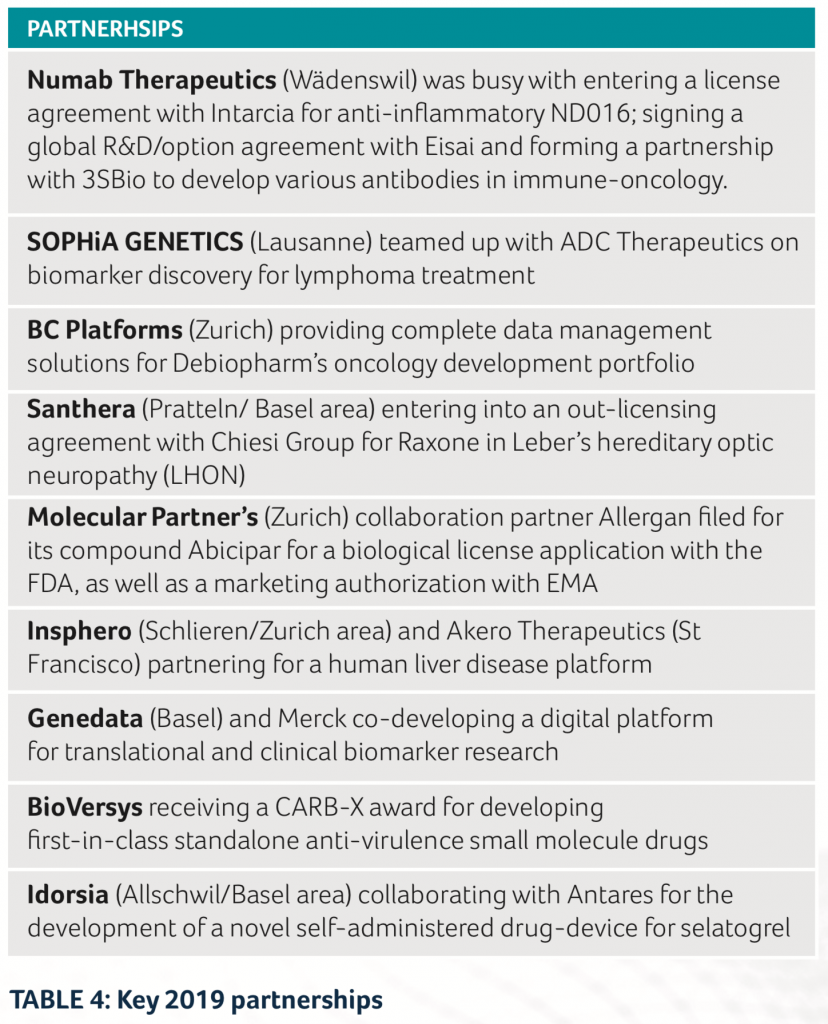 Numab Therapeutics was busy with entering a license agreement with Intarcia for anti-inflammatory ND016; signing a global R&D/option agreement with Eisai and forming a partnership with 3SBio to develop various antibodies in immuno-oncology
SOPHiA GENETICS teamed up with ADC Therapeutics on biomarker discovery for lymphoma treatment
BC Platforms providing complete data management solutions for Debiopharm's oncology development portfolio
Santhera entering into an out-licensing agreement with Chiesi Group for Raxone in Leber's hereditary optic neuropathy (LHON)
Molecular Partner's collaboration partner Allergan filed for its compound Abicipar for a biological license application with the FDA, as well as a marketing authorization with EMA
Insphero and Akero Therapeutics partnering for a human liver disease platform
Genedata and Merck co-developing a digital platform for translational and clinical biomarker research
BioVersys receiving a CARB-X award for developing first-in- class standalone anti-virulence small molecule drugs
Idorsia collaborating with Antares for the development of a novel self-administered drug-device for selatogrel
Swiss Biotech Regional Financing - 2017-2019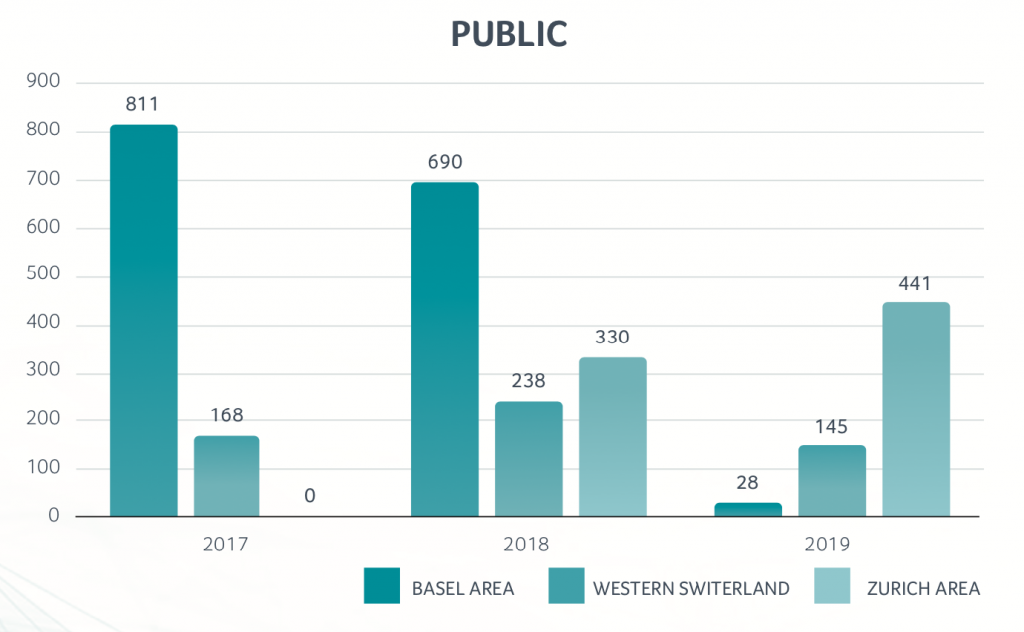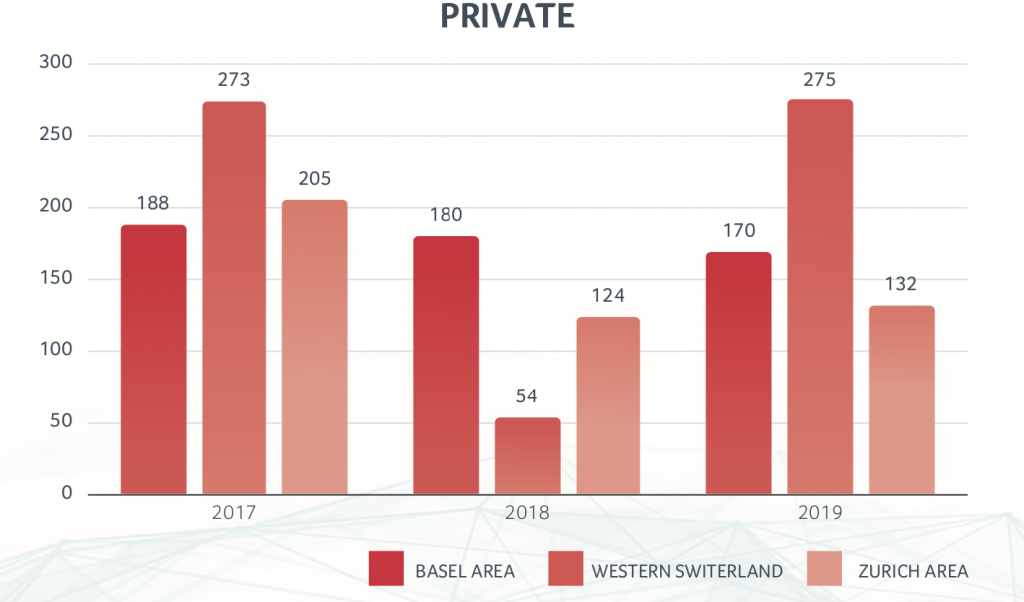 Product development
The global biotechnology industry saw fewer approvals by the FDA (48 compared with 59 in 2018) and a reduction in European
approvals by EMA (66 compared with 84 in 2018). Swissmedic itself approved 29 new drugs in 2019, which was two fewer than the 31 approvals for innovative new drugs in 2018.
In early October 2019, the FDA approved BEOVU (treatment for neovascular wet Age-related Macular Degeneration (AMD)). The origin for this new drug was initially developed by the former biotech company ESBATech AG (based in Schlieren), which was acquired back in 2009 by Alcon, before Alcon itself became part of Novartis.
Nevertheless, there were also some setbacks to be noted during 2019. For example, ObsEva reported that its Nolasiban implant 4 study did not meet the primary endpoint.
Several Swiss biotech companies also received awards in 2019:
InterAx Biotech received the "Seal of Excellence" from the European Commission
Daniela Marino, CEO of Cutiss, in 2019 won the "Female Innovator of the Year Award" and the company itself also was the winner of the "Swiss Technology Startup Award"
Insphero won the "Sino-European Innovation Award" for its human liver disease discovery and safety testing platform
Cellestia Biotech was the winner of the "Sino-European Business Award"
Tolremo won the Swiss Innovation Challenge
All of these awards are another clear indication of the strength
of the Swiss biotech sector and a reflection of all of the significant progress made over the past years.